LWVNYS Executive Director & Project Staff
Executive Director & Project Staff

Laura Ladd Bierman

Executive Director
Laura joined the State League staff as Executive Director in July 2008. She has been a member of the League for 30 years, with membership in 4 different local leagues in 3 states. She has served in a number of positions in local leagues, including study chair, editor of the newsletter, board member, Vice President and President.

Laura has a BA in political science from Colgate University and a Masters Degree in public administration from the University of Virginia. She spent much of her early professional career in the area of health care planning. From 1998-2008, she maintained a home business providing financial and consulting services to a national membership organization. Laura has taken her league experience and training to practical use, serving for over 8 years as a member, and 2 years as Vice President, of a school board in Glenview, IL. She was also elected in 2008 and served until 2013 as a member of the school board for the Bethlehem Central School District in Delmar, NY.

Erica Smitka

Deputy Director
Most recently, Erica worked as a Senior Grants/Contracts Specialist and Program Coordinator at Policy Research Associates, Inc. She worked to expand the reach of PRA's projects through the development of proposals, management of contracts, and evaluation of programmatic funds, while also managing the Social Security Administration's ARDRAW Program.

Throughout the years she has worked with a number of non-profits in a variety of capacities – in development offices, doing direct program work, strategic planning, and developing frameworks for data-driven decision making. Erica earned her Master's degree in Public Administration (MPA), with a focus on non-profit management, from Syracuse University's Maxwell School of Citizenship and Public Affairs. Prior to attending graduate school, Erica worked as an organizer and campaign director for Grassroots Campaigns, Inc., where she fundraised for non-profits and worked on a variety of political campaigns in California, Colorado, and Massachusetts.

Erica holds her Bachelor of Arts in International Relations from SUNY Geneseo, with a dual minor in Africana Studies and Anthropology. As an Albany native with a passion for grassroots activism, Erica is thrilled to join the League.

Milly Czerwinski

Communications and Development Associate

Before joining the League, Milly (they/them) served as a Communications Associate to the Office of New York State Senator Shelley Mayor. Milly has a strong background in communications and organizing and served as a Student Organizer to the New York State Public Interest Research Group (NYPIRG) while studying for their BA in Literature at SUNY Purchase.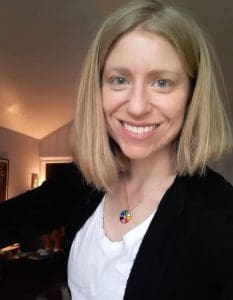 Jennifer Harder

Finance Associate

Jennifer (BFA, NYU Tisch School of the Arts) is from Flint, MI and was based in NYC for many years while working as a performer and live event producer. She moved upstate in 2018 and continued working in finance and project management with a focus on artistic and cultural organizations. She served as Director of Operations for a toy company, Operations Manager for the resident chamber orchestra at Carnegie Hall, and Director of Finance for a public relations company. Jenny is delighted to be splitting her time at the Blake Annex between two rockstar non-profits: League of Women Voters NYS and Big Brothers Big Sisters of the Capital Region. She continues to perform as a trumpeter in several bands.